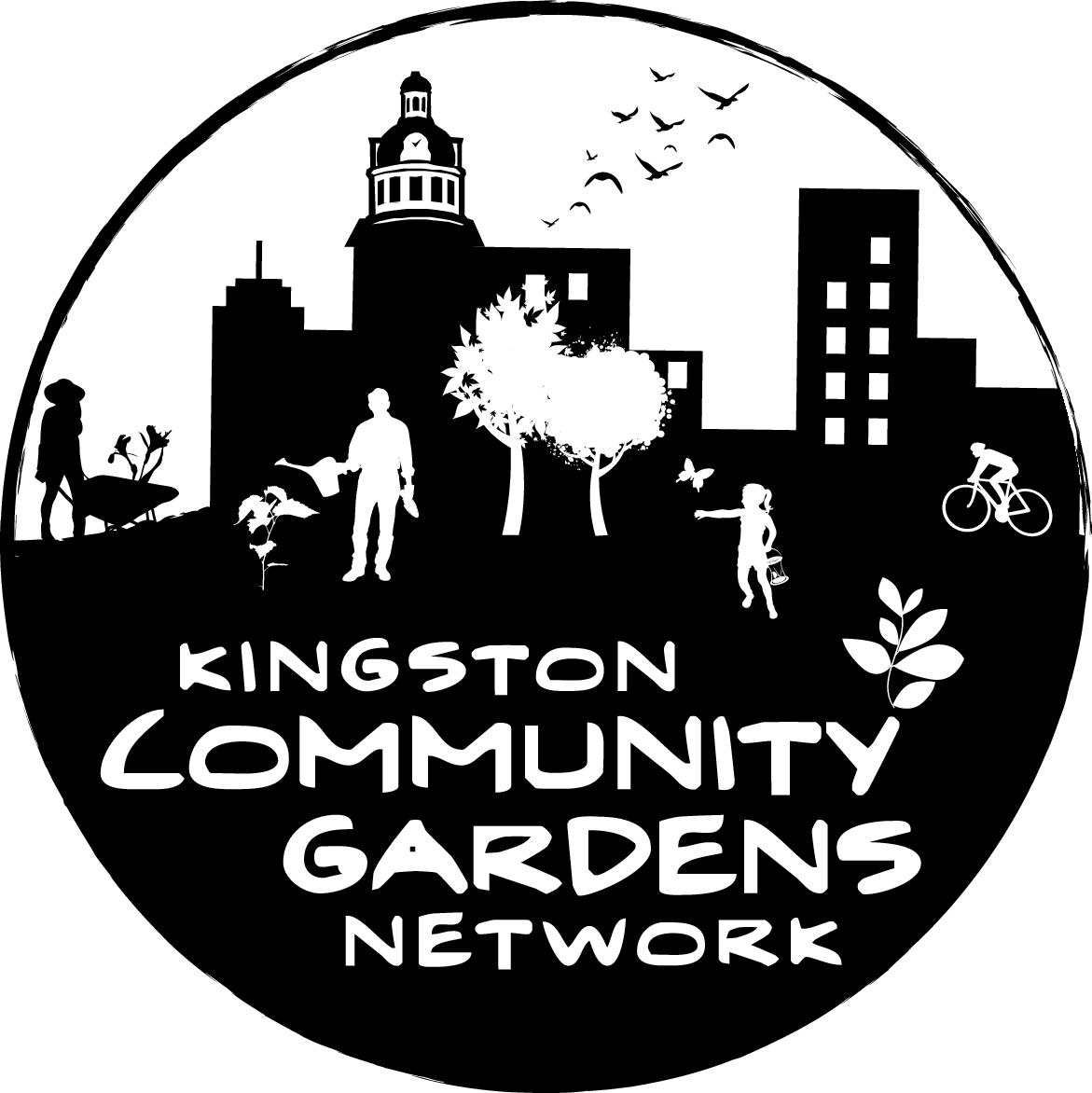 Supporting Community Gardens &

Inspiring Kingston to Grow Good Food
Frequently Asked Questions
These FAQs apply to Community Gardens and Community Orchards/Edible Forests on City of Kingston (municipal) lands. They may be useful to review if you are starting a community garden on other properties (e.g., you will still need a large, dedicated group to start and run a garden), but the requirements (e.g., liability insurance, City permission, etc.) do not apply.

If you have additional questions, please contact us.

I want to start a community garden on municipal land. How do I get started?
The City provides detailed information on starting a community garden through the KCGN. Please follow the steps outlined in the Community Gardens and Edible Forest Application Process - the first step is to get in touch with us!

Community gardens must adhere to the City's Community Gardens Policy.

Here are some steps you should start thinking about before starting the formal application process. The KCGN Coordinator will be happy to discuss these with you.
Organize a volunteer group (at least 10 people) to develop a plan for a community garden. You'll need that many people to carry the energy forward through establishment and long-term implementation.

Establish garden guidelines to support the development and outline the operation of the garden.

Develop a conceptual garden design plan (beds, layout, etc.).

Outline how the garden provides a public education component and how the garden is accessible to others.

Create a financial plan/budget for the garden. You'll need $2 million liability insurance, so you can plan to either seek funding annually from the City in their annual grant process or you can align with a civic partner to allow you the ability to apply for grants. Note: approval of the garden is dependent upon ability to fund the garden at minimal cost to the City and an understanding that ongoing garden maintenance is undertaken by the volunteer group through a Letter of Understanding

Complete and submit the City's Application Form to us.

Survey neighbours to inform them of the garden plan and gather their support.

Demonstrate community need/community support through letters and e-mails from partners and supporters.

Show willingness to comply with exiting bylaws, policies and procedures.

Who determines what site works for our garden plan?
Each site has different benefits, conditions, and limitations. Your garden plan or guidelines will help determine which site will work best for your garden. All sites on municipal land require City approval. Contact us to help you through the application process.

What kinds of practices, equipment and soil are permitted at the community gardens?
Sustainable gardening practices must be followed in all community gardens. Insecticides, herbicides and fungicides are prohibited with the exception of insecticidal soaps that may be used in the control of pests.

Compost and composting manures may be used in soil conditioning and fertilization.

All soils brought on to public lands must be tested and a copy of the soil diagnostic provided to the City as a requirement for development of the garden.

Garden volunteers may be permitted to bring in mechanical labor-saving devices within the constraints of the site and insurance coverage
Can members sell their produce?
Produce grown in allotment plots within the community garden will be for the personal use and consumption of the individuals involved in the community garden, not for sale. Produce sold by the garden as a whole from a dedicated plot for the purpose of fundraising for garden projects and programs is permitted as long as applicable permits and/or licenses are secured.

Can we install a gate or fence?
The intent behind a community garden is to not only provide access, but to encourage it, so gates and fences are not allowed at most gardens.

Why do we need insurance?
All community gardens must have insurance against risk/injury to cover the gardeners and public using the garden.

Can we set the rate charged for the plots in our community garden?
The garden may establish a fee structure. In order to ensure equal access and opportunity to all community members the fee structure must provide a fee waiver or sliding scale fee for those that indicate they are unable to pay the garden plot fee. Fees and collection of fees is the responsibility of each garden.

Why do we have to talk with neighbours about the garden? What if they don't want it?
Neighbouring residents will have opinions on the garden which will range from enthusiasm to interest to concerns regarding additional people near their property, parking, site lines, etc. Neighbourhood support is assessed by the City as an integral element of approval of a proposed new garden.

What is an Community Orchard/Edible Forest?
In 2017, the City established the Community Orchards and Edible Forest Policy to establish a framework to permit community-led planting, management and harvesting of fruit and nut trees and/or shrubs on City owned lands. Since then, two new edible forests have been planted in Kingston. Edible forests can be established in partnership with an existing community garden, or as an independent entity. See the Community Gardens and Edible Forest Application Process for details about starting an edible forest and contact the KCGN